Airofit benefits everyone - professional athletes, amateur athletes, anyone who has ever run out of breath while taking the stairs, as well as those who suffer from pulmonary issues like Asthma or COPD. Airofit was originally developed as a medical device for Asthma and COPD aid by Danish Medtech company AMBU.
Read Airofit Introduction.pdf.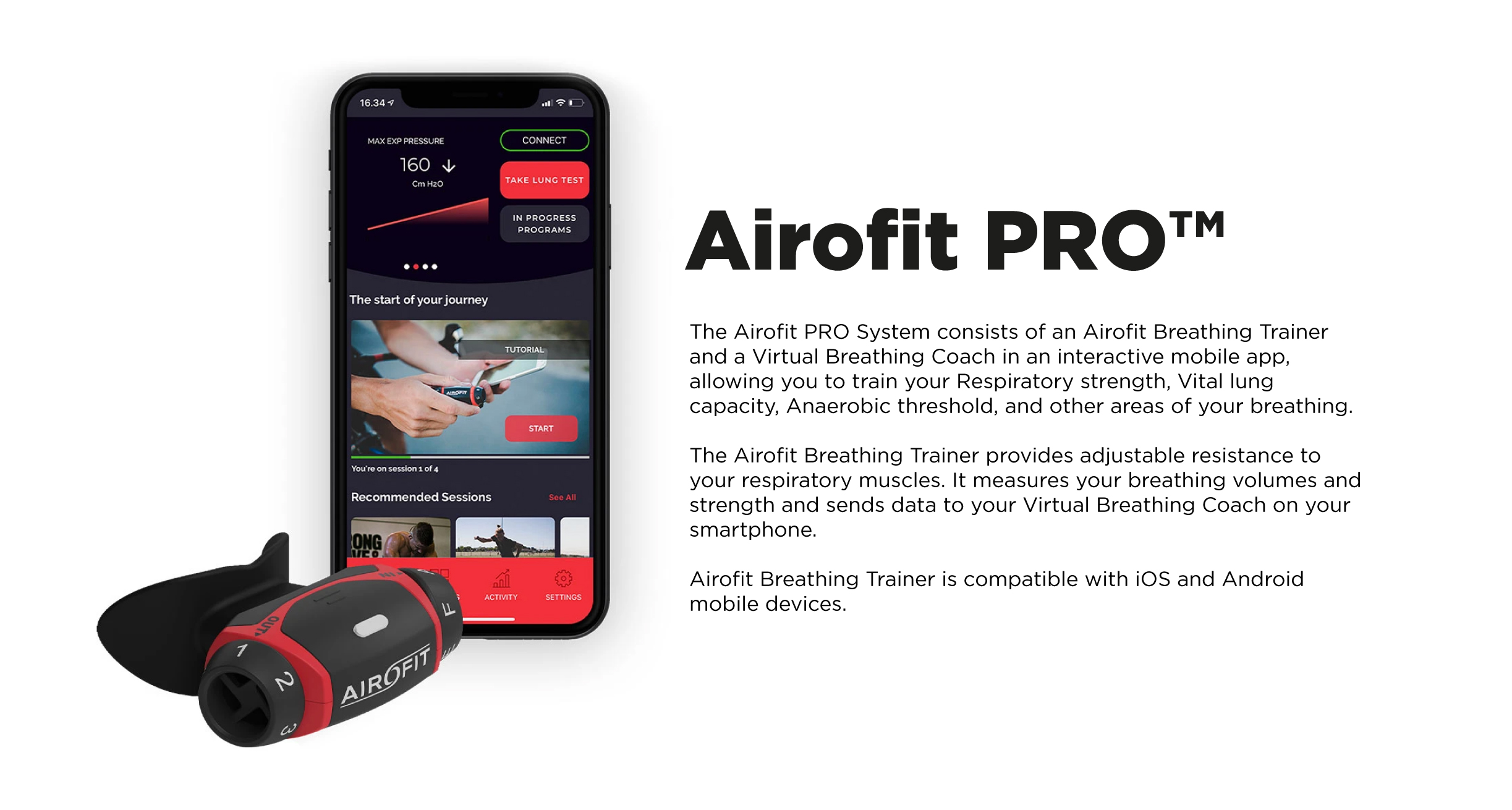 Airofit PRO™ (Malaysia)
The Airofit PRO System consists of an Airofit Breathing Trainer and a Virtual Breathing Coach in an interactive mobile app, allowing you to train your Respiratory strength, Vital lung capacity, Anaerobic threshold, and other areas of your breathing.
The Airofit Breathing Trainer provides adjustable resistance to your respiratory muscles. It measures your breathing volumes and strength and sends data to your Virtual Breathing Coach on your smartphone.
The Virtual Breathing Coach gives you real-time guidance and feedback, and track your progression in various tested exercises and training programs.
Airofit Breathing Trainer is compatible with iOS and Android mobile devices.
Check out the Airofit_Pro_Quick_Guide.pdf to see what your purchase includes and how to get started.

One of the most overlooked areas in sports and wellbeing.
Despite being ancient knowledge, breathing training has not become a part of our everyday lives - until now.

Sports & Fitness : Significant performance improvements on all levels

From amateurs to elite - athletes on all levels benefit from respiratory muscle training. While top athletes will see marginal improvements, those who have never done isolated breathing training will see improvements in strength, endurance, and explosiveness.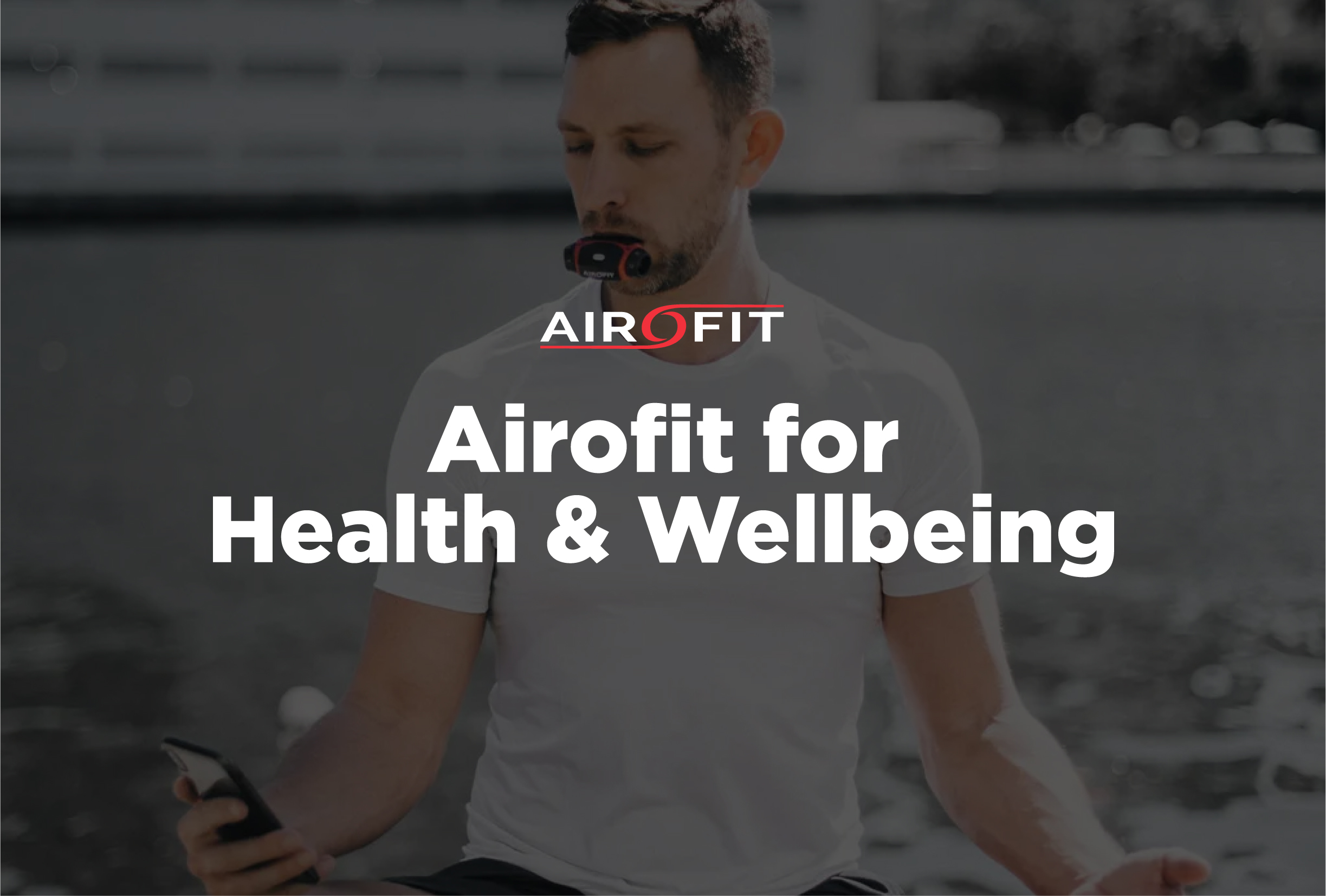 Health & Wellbeing : Improved breathing leads to significant wellbeing benefits
From increasing your energy levels in daily life to decreased stress levels and improved sleep. Breathing training will help you improve your general wellbeing and health.


Pro cyclist improved his performance in just 12 weeks

Alex Wallace underwent an intense 12-week training program which resulted in improvements in lung function, peak flow scores, FTP measurements and race times. PDF below describes his training protocol, subjective feeling, and objective results.

Download full case study here


| | |
| --- | --- |
| Triathlon : "Lately I've been finishing my races STRONG! Mostly that's due to my Airofit." - Michelle Vesterby, Ironman Competitor | |


| | |
| --- | --- |
| Crossfit : "Airofit means I can push myself harder and further than ever before." - Frederik Aegidius, 4x CrossFit Games Competitor | |


| | |
| --- | --- |
| Golf : "The progress I see on the golf course is brilliant. I hit it harder, I hit it longer and I hit more greens in regulation!" - Ronnie Lindeskov, PGA Professional, TrackMan Coach | |

Asthma & COPD : Airofit was originally designed to help those suffering from asthma and COPD

The device that eventually became the Airofit breathing trainer was originally developed and tested by the AMBU - an international Danish MedTech company developing, producing medical equipment for hospitals and rescue services. It was designed as medical aid for patients suffering from asthma and COPD.




Why Inspiratory Muscle Training (IMT)?
Primary weakness of the inspiratory muscles, as well as the effects of static and dynamic hyperinflation, secondary to airway obstruction, induce weakening of inspiratory muscles, as well as increasing the elastic work of breathing. The resulting neuromechanical dissociation (an imbalance between demand and capacity) intensifies the sensation of dyspnea. See extract from 'Respiratory Muscle Training: Theory and Practice' (McConnell, 2013) for a comprehensive description.
Furthermore, a recent review by O'Donnell and colleagues (O'Donnell, Milne, James, de Torres, & Neder, 2019) provides an authoritative, up-to-date overview of the mechanisms contributing to dyspnea in patients with COPD. They conclude that:
"A common final pathway of dyspnea relief and improved exercise tolerance across the range of therapeutic interventions (bronchodilators, exercise training, ambulatory oxygen, inspiratory muscle training, and opiate medications) is reduced neuromechanical dissociation of the respiratory system".
FAQs
1. What is Airofit?
Airofit is a respiratory training system that improves athletes' performance through tested breathing exercises. Whether you're running, cycling, swimming or simply want overall better wellbeing; an improved respiratory system will benefit you. The best part - it will only take 10 minutes a day as Airofit is designed to be used separately from other physical activity.

2. How does Airofit work?
The Airofit Breathing Trainer contains resistance wheels that provide adjustable restricted airflow. This resistance causes fatigue in your breathing muscles which is then compensated by muscle tissue growth, making your respiratory muscles stronger, faster and more efficient.

Airofit pairs with your smartphone, which gives you live feedback, guidance and the ability to track your progress. The mobile app consists of various training programs that target different areas of your breathing like Respiratory strength, Vital capacity, and Anaerobic threshold.

3. How and when do I use Airofit?
Airofit is designed to be used separately from any other physical activity. This means that you can use Airofit in any free moment - before bed, at work, after a gym session or whatever suits you best.

Training is done with your smartphone in front of you, as the app will guide you through every exercise via live feedback and data visualization.

4. How is Airofit different from other breathing trainers?
Airofit is the first and only truly smart breathing trainer on the market. We know that one size does not fit all, therefore all Airofit training programs are tailored to YOU - we take into consideration your age, size, gender, and preference. Airofit also measures your vital lung capacity and breathing muscle strength. We take all that data as a baseline for your training and enable you to start and progress through your training correctly.

Airofit is also the only breathing trainer that goes beyond simple respiratory muscle training (RMT). We also address other aspects of breathing, like Respiratory strength, Vital capacity, Anaerobic threshold, and relaxation. We ensure that you can train harder, recover faster and most importantly - perform better.
5. How do I know Airofit actually works?
Airofit is based on countless research within the respiratory training area. Refer to our Science section to see the most relevant research papers.

Airofit has also been tested by an international Medtech company AMBU. After testing Airofit on 68 healthy individuals, the group training on the highest resistance settings showed an average performance improvement of 15% in a standard Cooper running test.

See full research here.

6. What do I get for my money?
The price includes an Airofit Breathing Trainer and the mobile application with all future updates, which consists of training programs and sessions developed by experts. There are no hidden or additional monthly costs!

Airofit packaging also includes a quick guide and a charging cable.

7. Will Airofit help if I have asthma?
When developed by AMBU, Airofit was originally designed as an asthma and COPD aid. Respiratory training is known to help with asthma symptoms.

In asthmatics, variety in tidal volumes is very common - their breathing muscles are working far from the optimal capacity. This makes them inactive and results in dyspnea/shortness of breath. This becomes most obvious during exercise, so you waste even more energy on breathing alone.

We are working with several asthmatics and their feedback is great - from easier asthma medication inhalation to lack of symptoms altogether. However, there are many different types and degrees of Asthma, so we strongly recommend you first consult with your doctor about respiratory training.

8. Is there an age limit for using Airofit?
There is no age limitation to using Airofit. However, the mobile app does not let you register if you are under 13. This is because your results are measured compared to an average of an individual the same age - there is simply no quantitative respiratory data on children below 13. That being said, you can still use Airofit and all its features if you're younger, but the data will be compared to a 13-year-old.

If you are under 15, we strongly advise training with adult supervision.

9. How often should I use Airofit?
We recommend that you start training 2x5 minutes every day. We have found that 2x10 minutes per day is the optimal training schedule, but you should gradually work your way up to it.

Your breathing muscles are just another muscle group. You should always 'listen' to your body. If the training gets too intense, take a break.