Product Details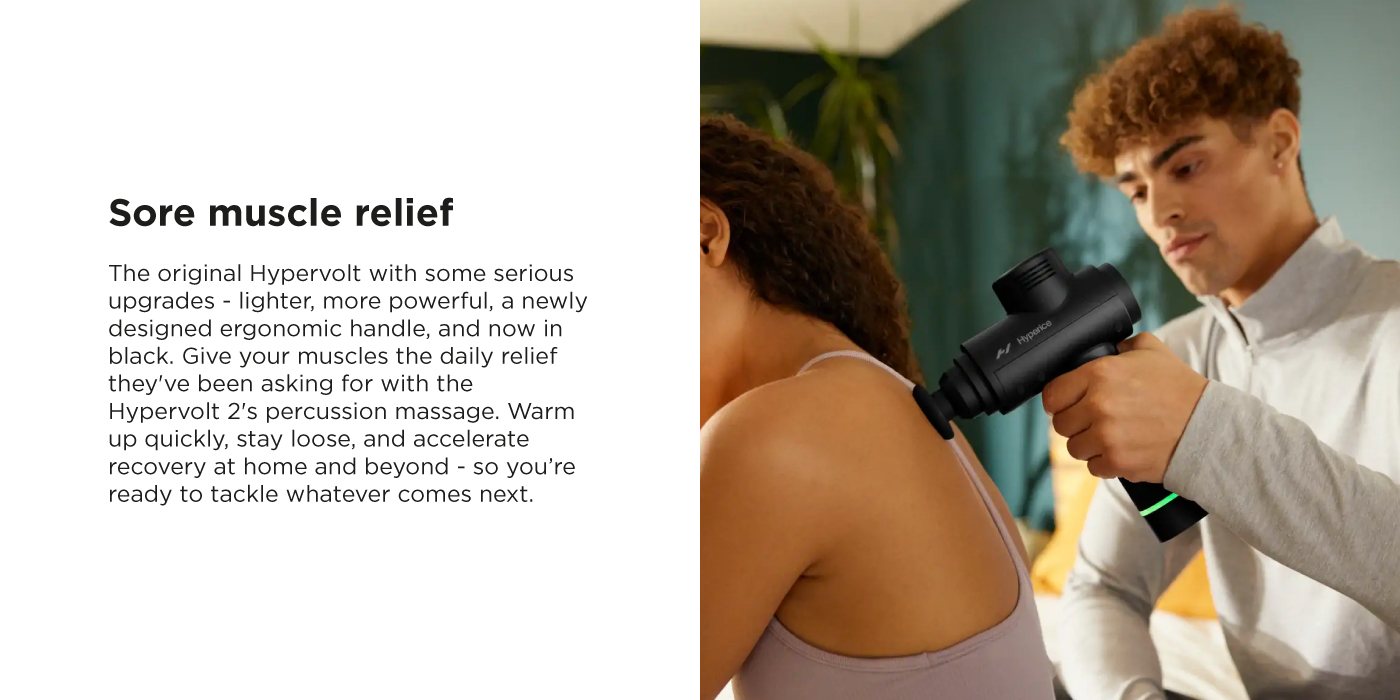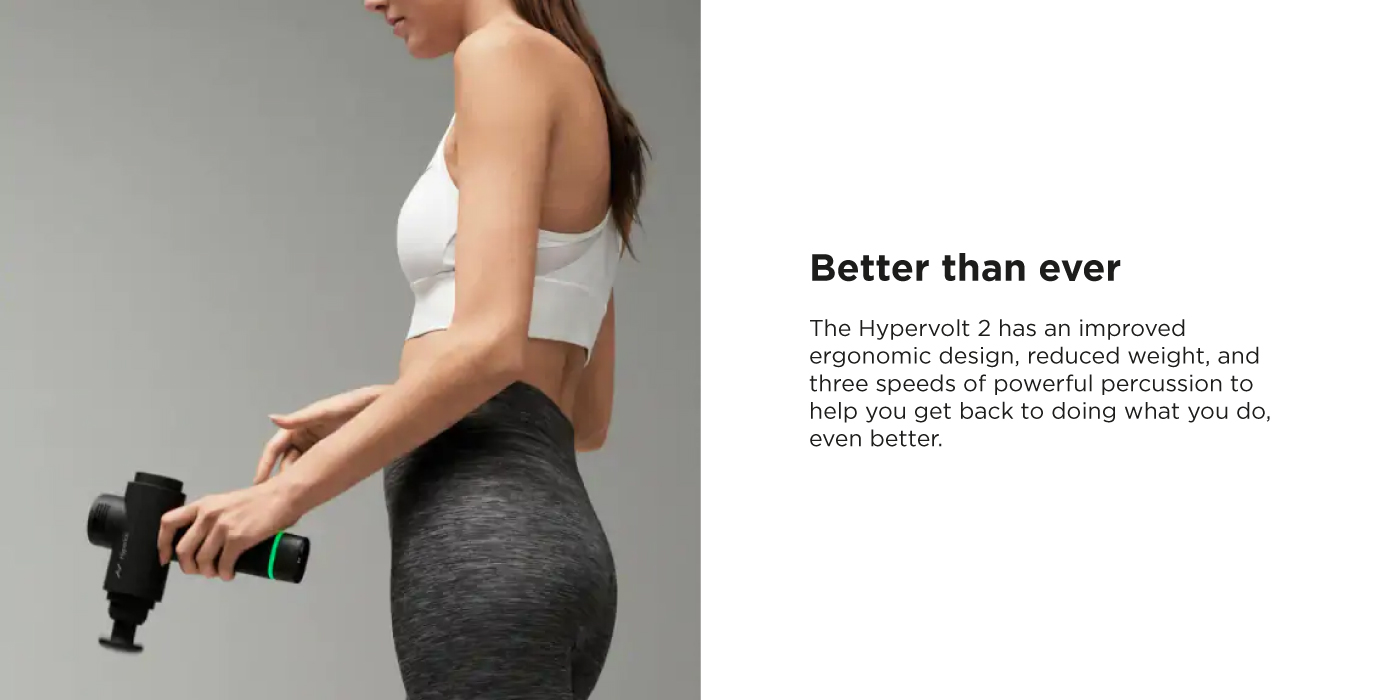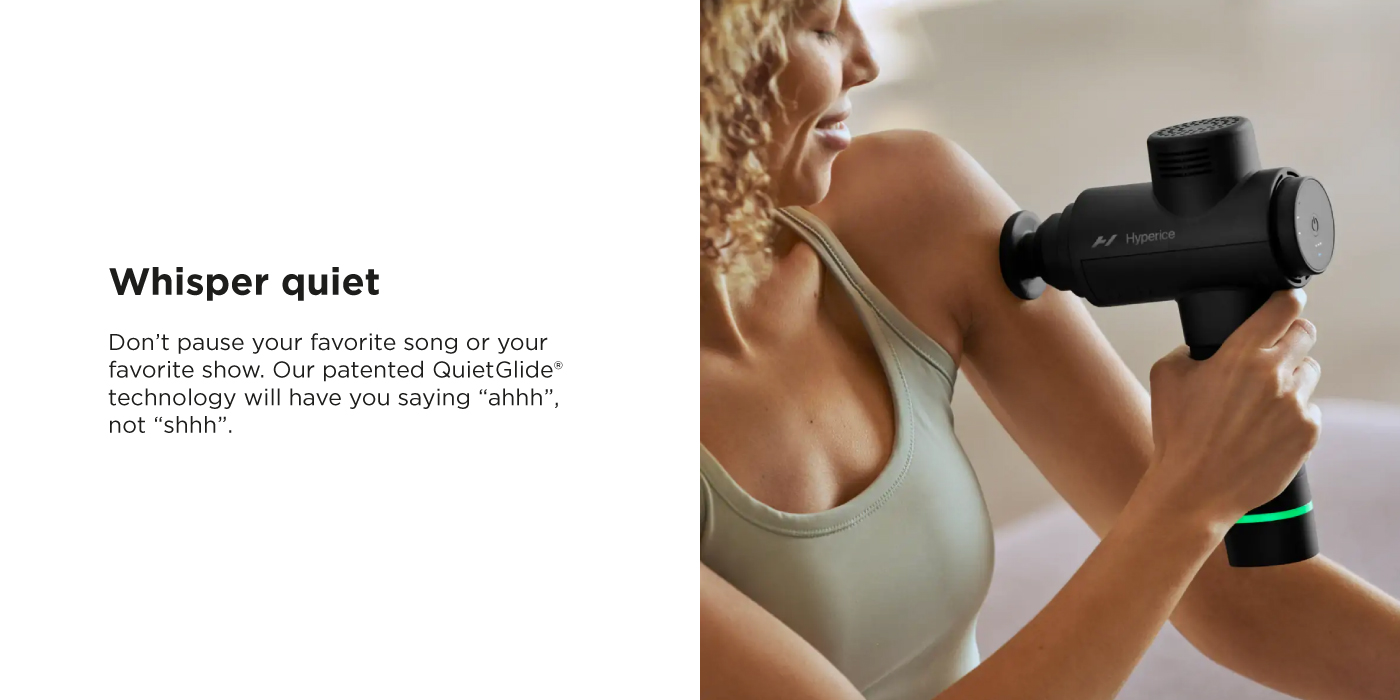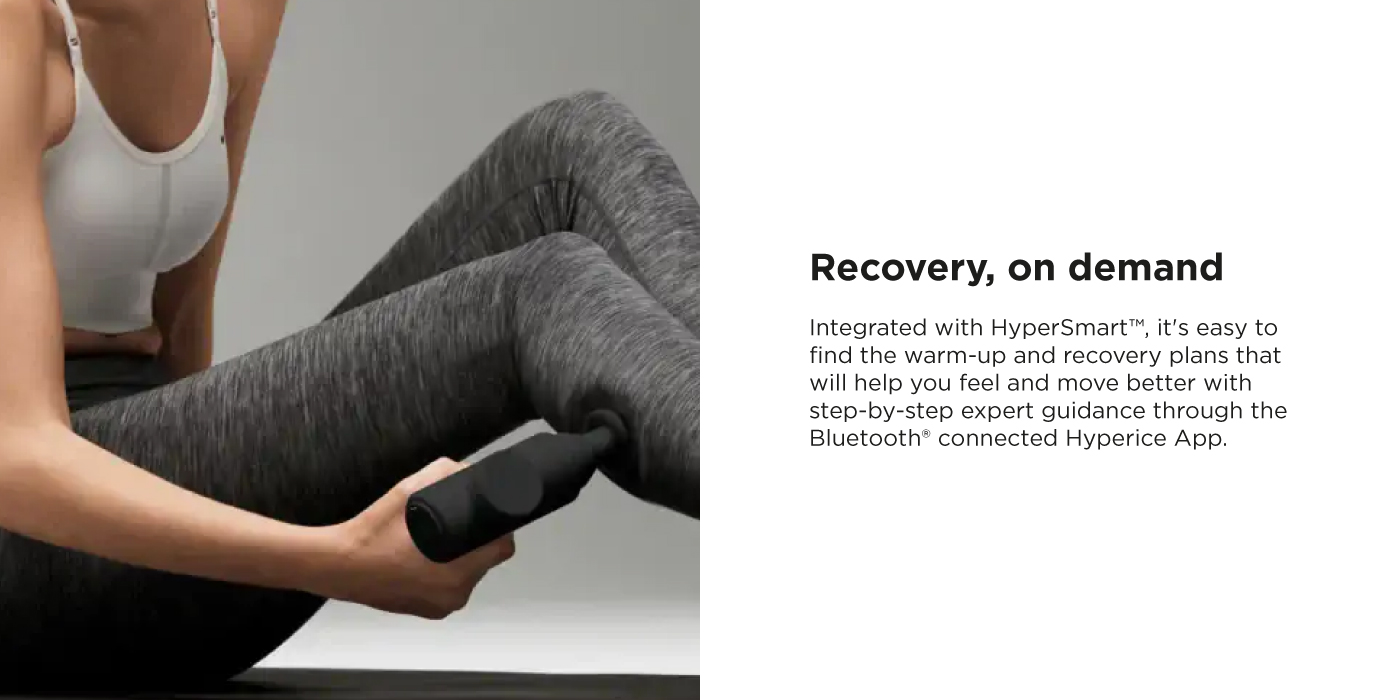 Product Specifications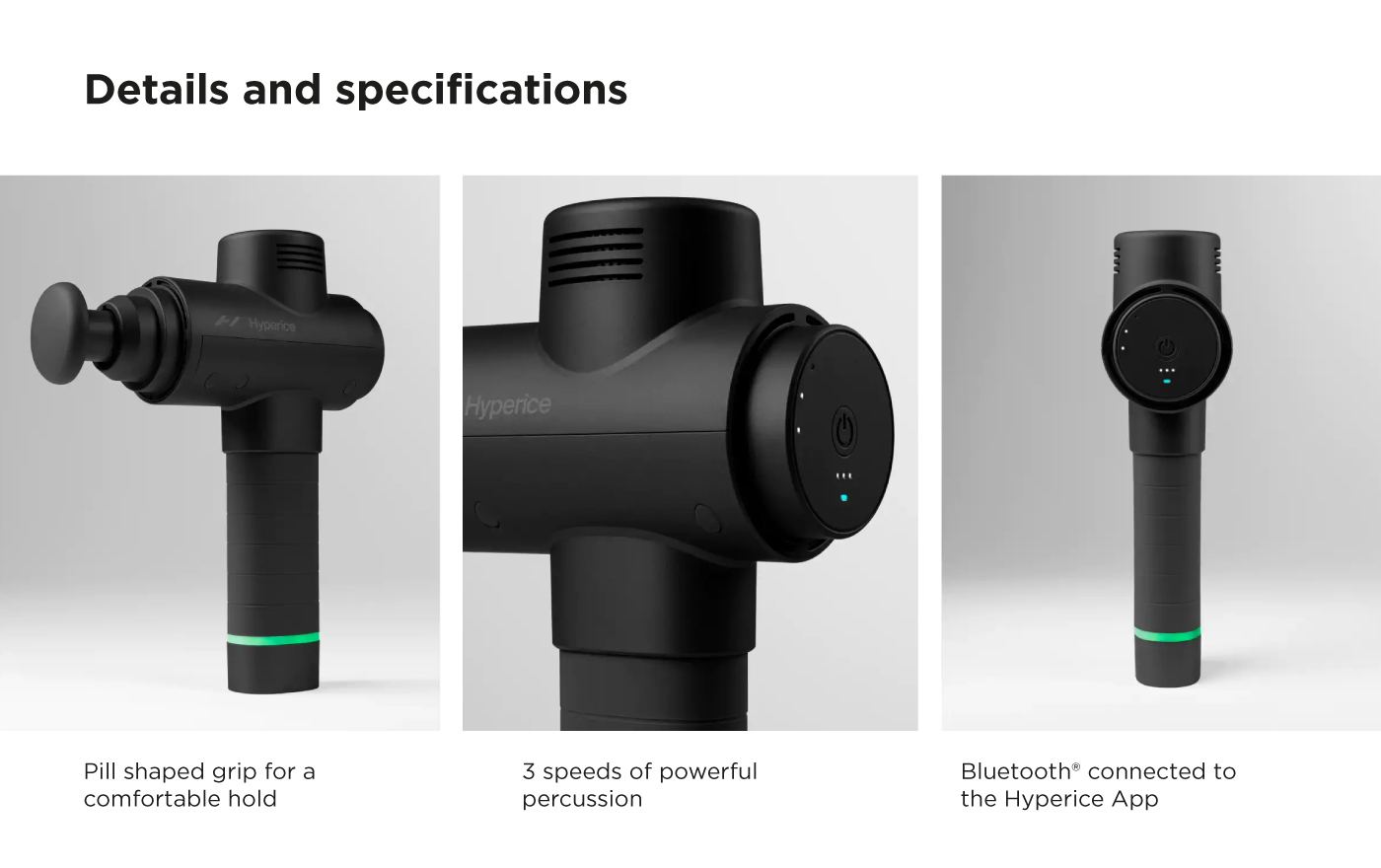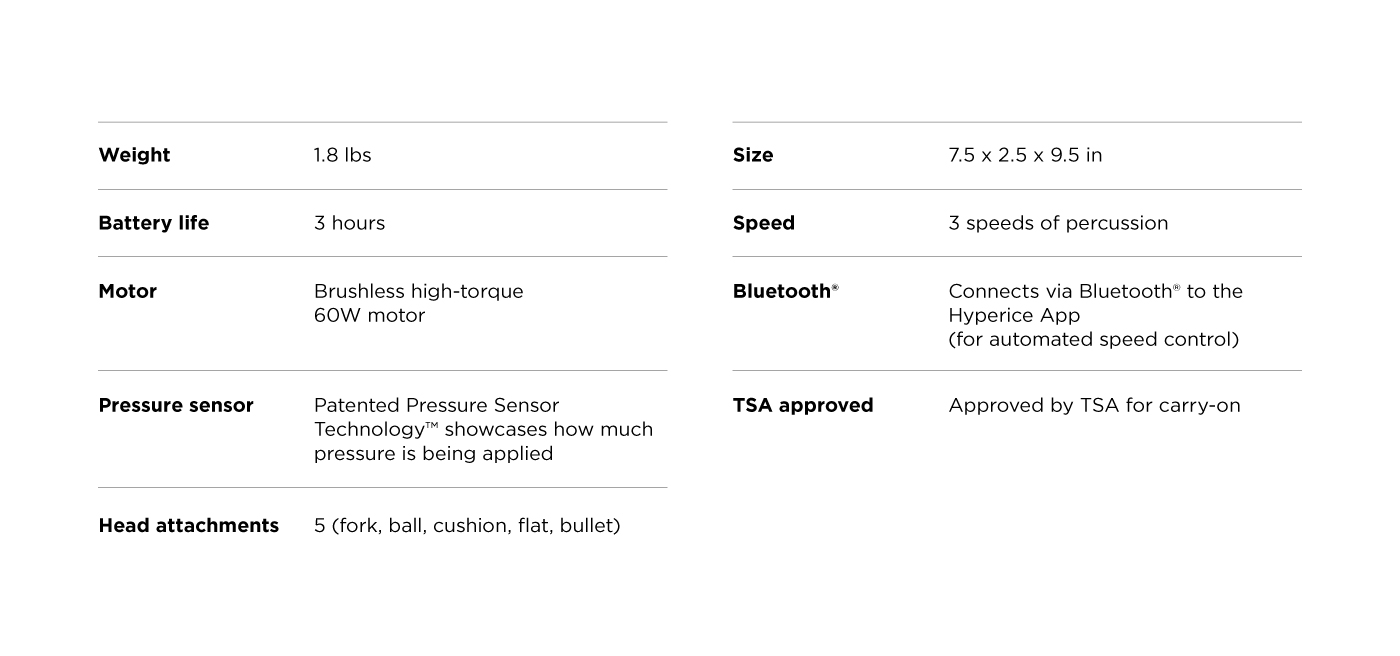 Comparison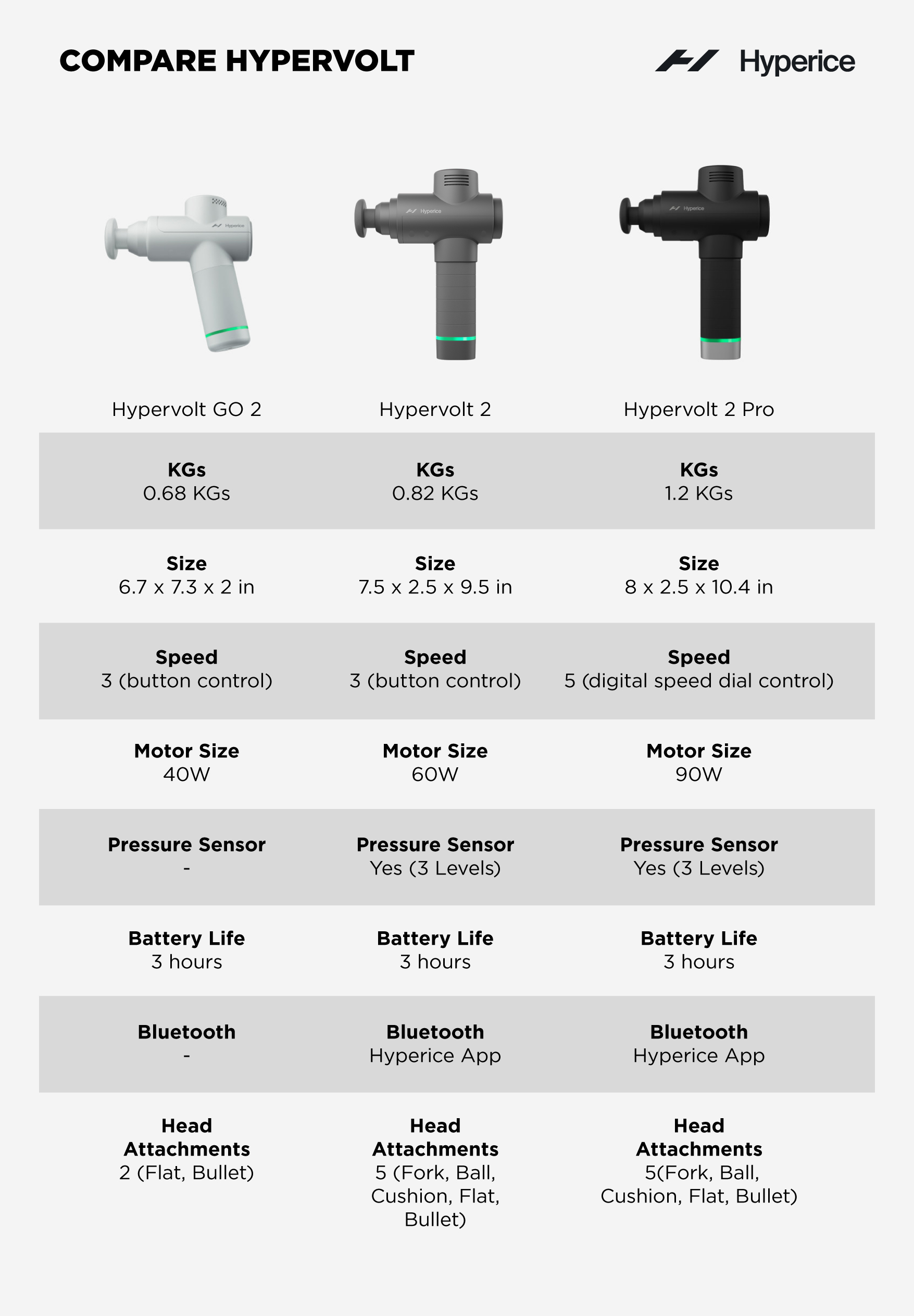 What's in the Box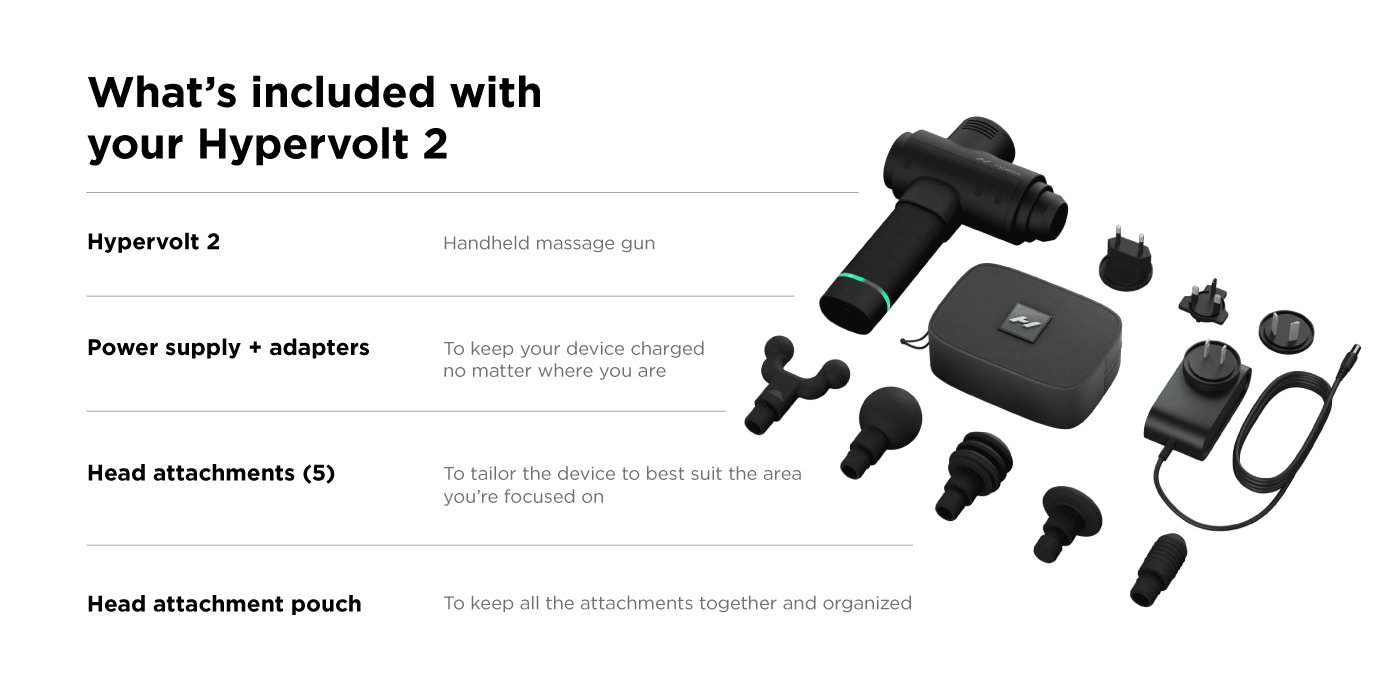 Who uses the Hypervolt
Trusted by Elite Athletes, Physiotherapists, Orthopaedic Physical Therapists and Chiropractors.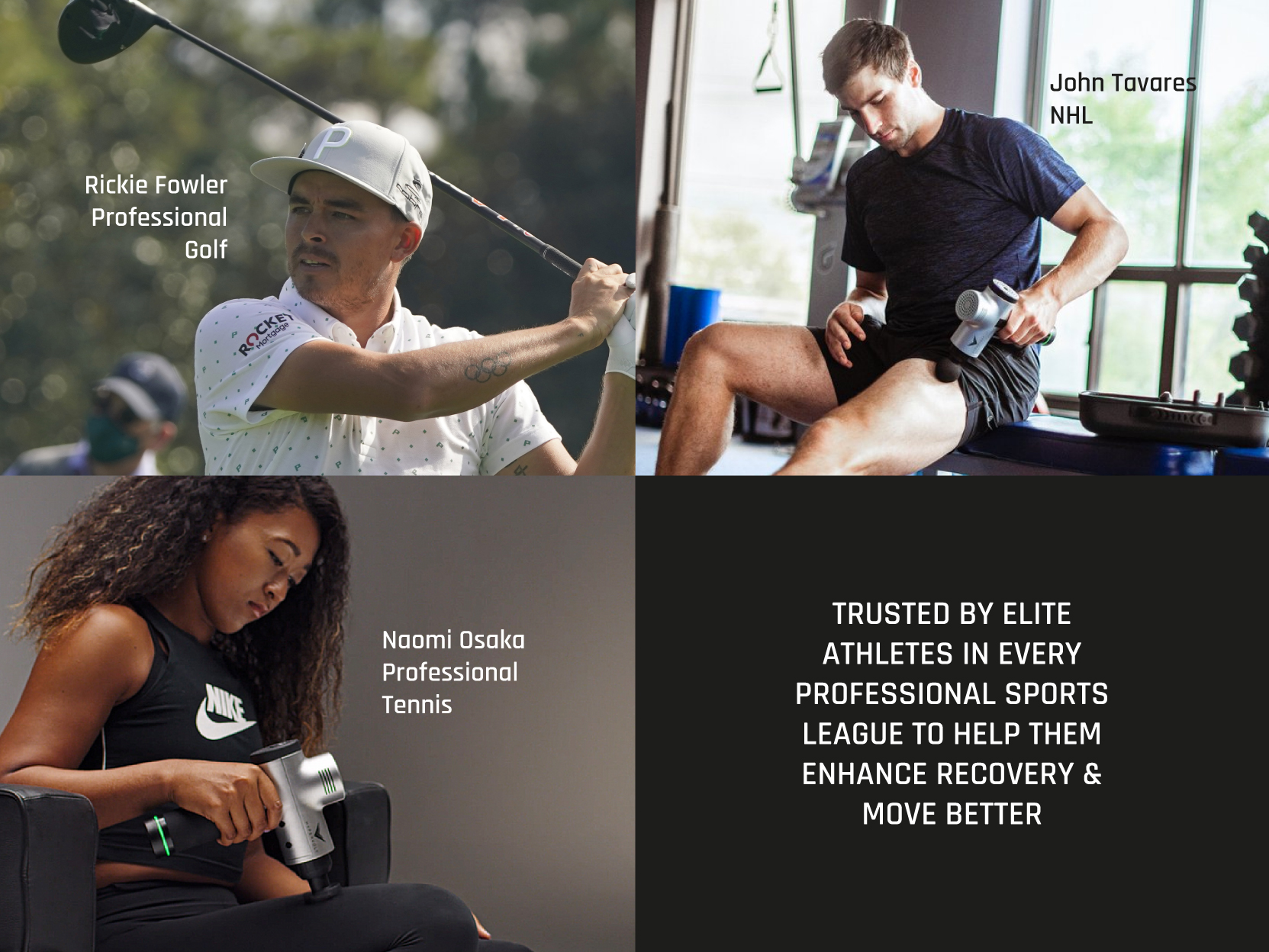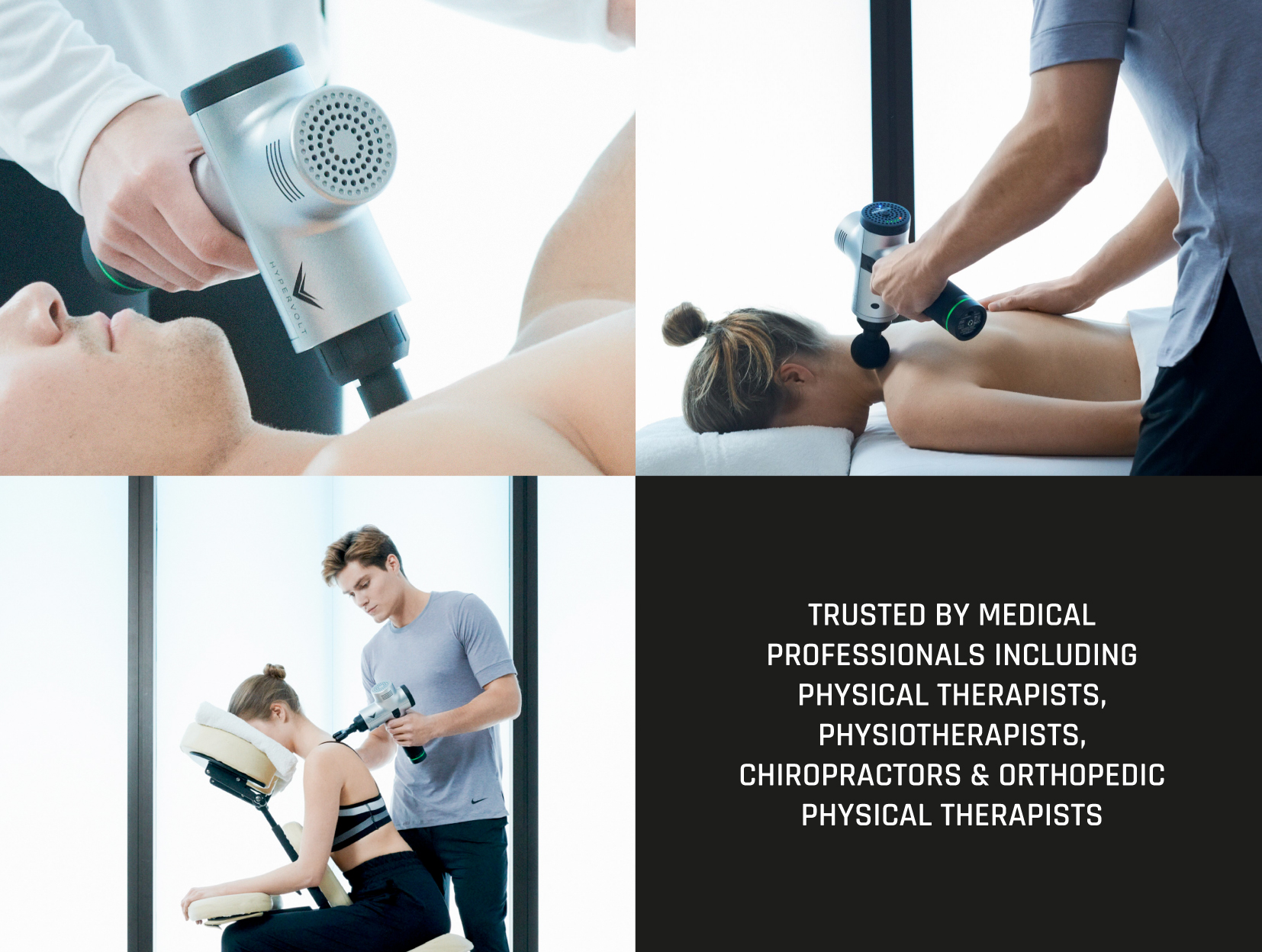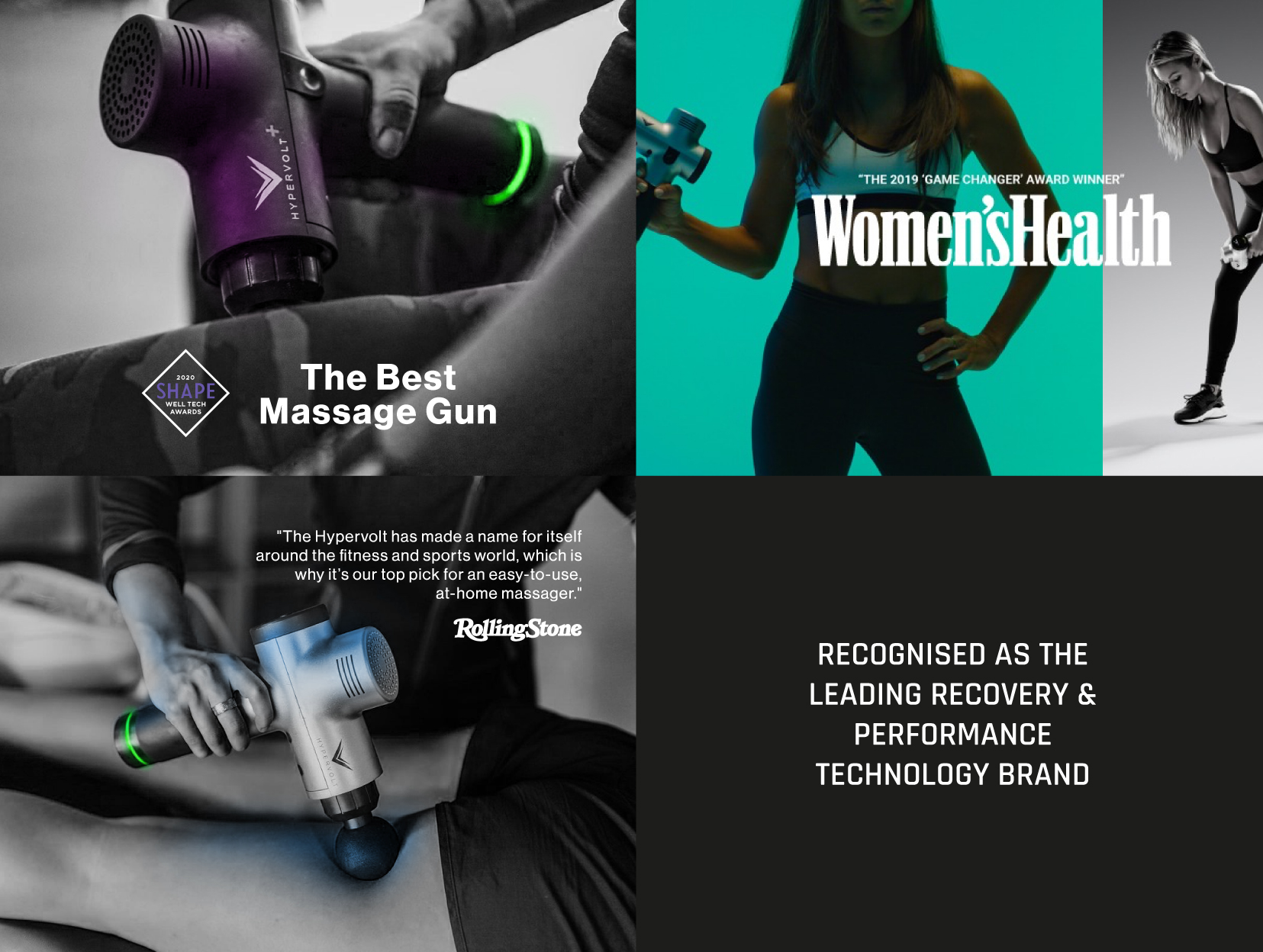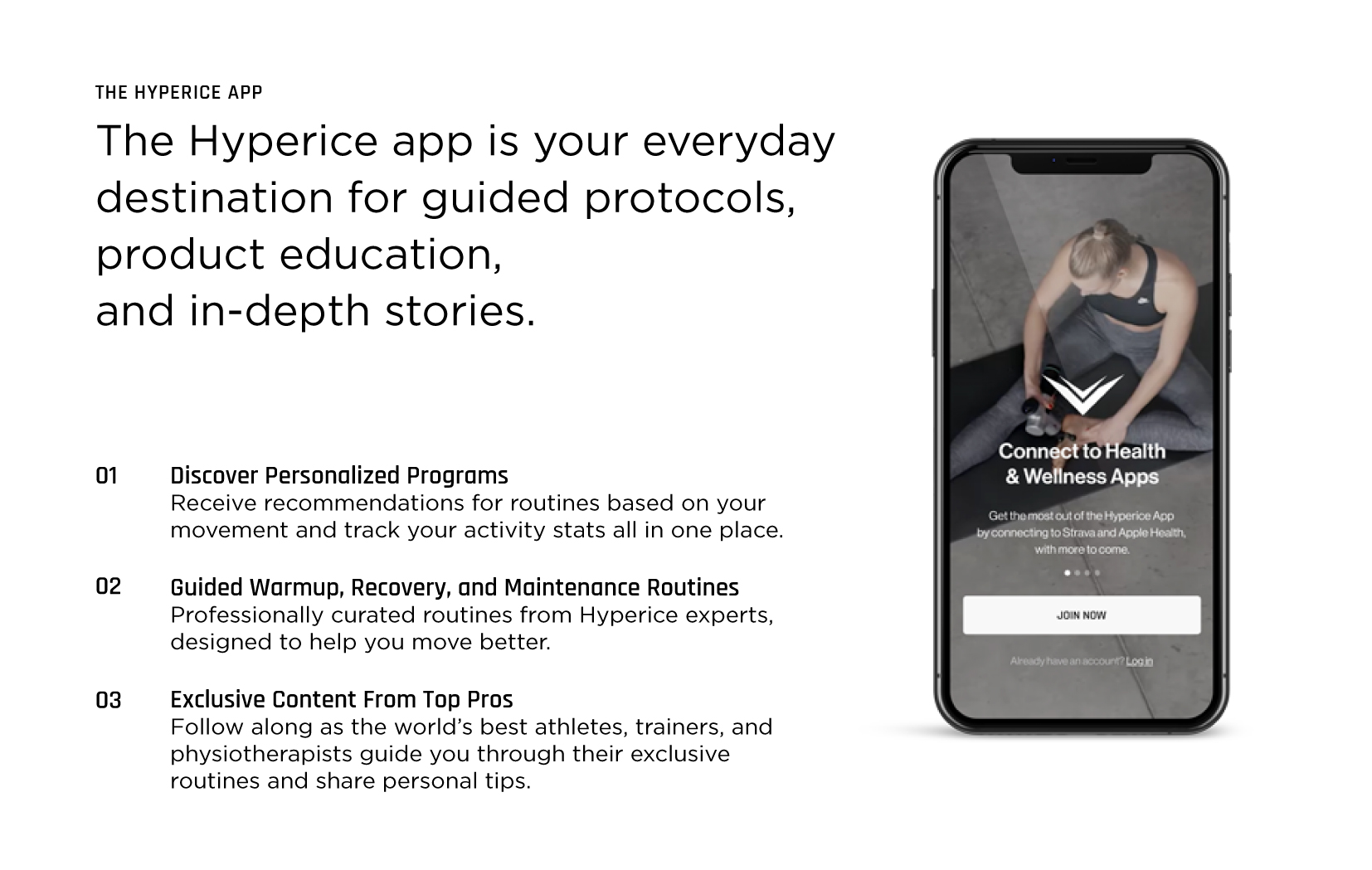 FAQs
Operating your device
Align and attach battery into base of unit - ensure it is securely locked in place.
Power device on by moving the power switch on the bottom of the battery to the ON position. Power device off by moving the power switch to the OFF position.
With the power switch in ON position, press the power button once to turn device on to level one.. twice to turn device to level two and three times for level three. Pressing the power button again will turn the device off. The blue LED lights will indicate the corresponding power level.
With unit off, insert applicator by pressing in. Remove by pulling it out.
Massage desired body part at the desired speed applying pressure as needed.
To remove the battery, lightly press the battery release button with thumb. Firmly pull downwards on the batter handle with the other hand.
Charging your device
Fully charge battery for up six hours before first use either attached or detached from the device.
To charge, connect the DC end of the supplied 24V adapter to the battery's charging port and plug AC side cable into the wall outlet.
LED band on battery lights pulsate to show battery level and indicate active charging.
Full charge is indicated when all LED lights stop flashing and remain fully illuminates.
Battery may be recharged at any time at any battery level.
It is not recommended to fully deplete the battery to the red LED level.
The average run-time is 2+ hours depending on speed level and pressure applied during use.
Clean, Care and Travel
Use a slightly damp towel to clean device and dry with a soft cloth.
For storage or travel, remove battery and store in supplied carton box or Hypervolt Case.
Travel friendly-TSA approved as carry-on, light and compact.
Shipping Details
Please choose from the following options:
1. West Malaysia Shipping
2. East Malaysia Shipping
3. Self Pick-up at our location:

PFC Studio
E-3-14 Plaza Damas
Jalan Sri Hartamas
50480 Kuala Lumpur
Try Before Buying


Not sure if this suits you? Make an appointment to try the Hypervolt 2 at our studio in Plaza Damas, Jalan Sri Hartamas, Kuala Lumpur.

WhatsApp us here: https://wa.me/message/NCQTZ6RIKFDSB1